Bundle up the Daily Creative Practice Journal course with the yearlong community of Living in Your Journal and experience a 365 days of connected community guided by 7 instructors and an abundance of creative inspiration.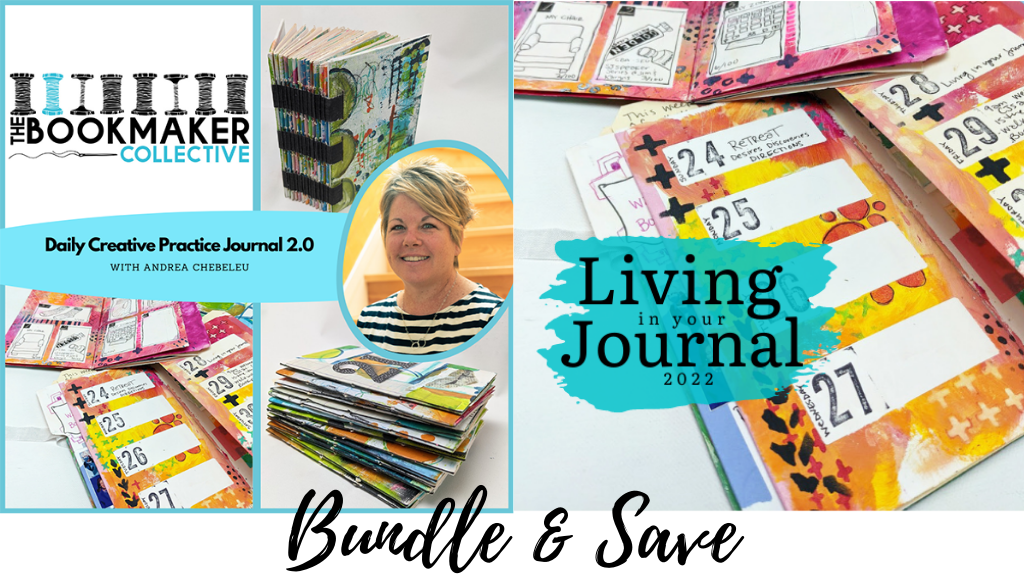 Creative Practice 2022
This journal is a tried and true container for capturing bits of my creative life since 2014. I'm thrilled to bring it to you with a few of my friends to share how they use it too!
Frequently Asked Questions
How long will it take me to make the journal?
The prep takes between 2 & 3 hours to gesso the backgrounds, the course video is presented over 7 hours but the core construction (not including painting) will take about 90 minutes.
What do you mean by "Living in" my journal?
The actual using of my Daily Creative Practice Journal is what I consider "Living in" it. Attaching bits of what is happening in my day to day life, painting, drawing, collage, doodling, writing. All of these are ways I live in my journal.
What if I don't want to use my journal the way you do?
That is the beauty of this book, it is flexible and adaptable to whatever you dream up to do in it. The size and number of pages is perfect to fit just a bit of art in daily/weekly/monthly. Whatever works for you.
What if I can't make the live classes?
No problem. All live zoom classes will be recorded and loaded in the classroom for viewing at your leisure.